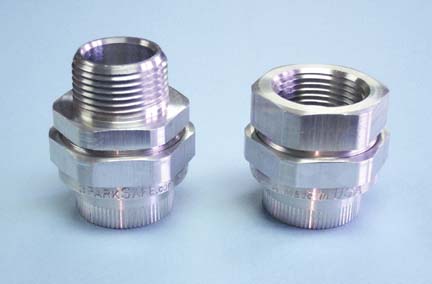 Explosion-Proof Conduit Unions
The purpose of an explosion-proof union is to control the release of hot gasses or other material if there is an explosion inside the conduit. Explosive materials may exist outside the conduit which make it necessary to cool escaping gasses so that the explosion does not propagate to the surrounding environment.
Virtually all manufacturers of these unions utilize a design where two flat, circular serrated surfaces are pulled together by a nut. Hot gasses escaping from inside the conduit travel a greater distance because of the serrations and are allowed to cool in the process. Because the gasses are cooler, the area surrounding the conduit is not ignited.

We designed our unions using three basic criteria.
1 - Safety - Our unions must function as intended in the event of an explosion. The rigorous requirements of Underwriters Laboratories has been met as evidenced by our listing from that organization. Our design is the first to pass the more stringent UL tests for the Canadian market and bears the CUL mark as a result. Competitor's unions that display the standard UL symbol have not passed these more demanding tests.
Our unions are also certified by the Canadian Standards Association. CSA is a more recognized safety organization in the country of Canada.
2 - Ease Of Installation - Our unions feature a hexagon shape on two components which is much easier to grip with a wrench. Some of our competitors use a round shape on two and sometimes all three components.
The largest diameter of our unions is small. This allows for installations closer to a wall or other obstruction. No competitor has a smaller maximum diameter.
The overall length of our unions is short. Again, this allows for installations in close quarters. No competitor has a shorter overall length.
3 - Manufacturing Efficiency - By using an efficient design, material usage is reduced and the time it takes to machine each piece is decreased.

We offer a product that has a superior design at a reduced cost with no compromise in safety. This, and all our products, are proudly made in the USA!